While hundreds of acres burn in the Amazon, Africa, the Canary Islands and California, and that the island of Borneo is about to be deforested in order to build a new capital, the issue of protecting the world's forests is becoming urgent. Covering just over 31 % of the Earth's surfacethey are considered a "lung for the planet". Much of the world's terrestrial biological diversity is concentrated in forests, and forest ecosystems are estimated to contain 70 % of the world's plant and animal species.
Despite their absolute necessity for the survival of humankind, ecosystems and the regulation of the global climate, there is no international treaty considering the total protection of forests. Internationally, they are protected only in a fragmented way. There are, however, possible solutions to better protect these vital areas.
Lack of international consensus
Many of the existing international treaties contain provisions to regulate forest-related activities. However, no global legal instrument is exclusively dedicated to forests.
Some international agreements such as the Framework Convention on Climate Change or the Convention on Biological Diversity require specific treatment for forests, which include at least a dozen multilateral instruments relevant to this sector. However, the current strategy to enhance synergies between these instruments is unlikely to be sufficient to ensuring sustainable forest management.
In 1990, international negotiations were launched to define a global convention on forests and approved by the G7. It was expected to be concluded in 1992 at the Rio Summit, but no consensus was reached. Instead, no consensus was reached, was adopted a non-binding statement of principles.
Since then, the international will to reach a binding agreement has weakened. The Kyoto Protocol s 1997 report, for example, does not mention forests as "carbon sinks", and the 1997Paris Agreement has also to date not accurately defined the obligations of states with forests. Negotiations on greenhouse gas emissions trading and carbon sink units were another stumbling block at COP 24 in Katowice in 2018. Brazil refused to commit itself to these issues and the negotiations have stalled until further notice.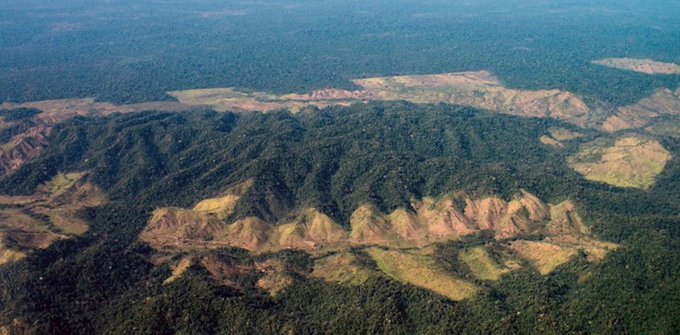 Fragmented protection
For its part, the United Nations Convention to Combat Desertification (UNCCD) gives an important place to the protection and expansion of forests. However, it considers forests only from the specific angle of combating drought without extending to other aspects of forest areas.
Why not enjoy unlimited reading of UP'? Subscribe from €1.90 per week.
The same problem can be observed with the Ramsar Convention for the protection of wetlands that is committed to ensuring the conservation and wise use of wetlands through international cooperation. More than a thousand sites, covering a total of more than 80 million hectares, are classified as Wetlands of International Importance.
Some of these sites contain forest ecosystems, such as mangroves, but it is impossible to determine their exact number because forests as such are not identified under the convention.
Generally speaking, all international texts relating to forests consider them in a fragmented way, without taking into account the forest issues in their entirety.
Global "commons", a possible solution?
One idea would be to consider global forests as global commons, which could have a legal status as such so that they are managed by the international community exclusively or jointly with several States in coalition. Several difficulties However, there are legal and political issues.
Let us first recall that the World Heritage Convention establishes a system of collective protection of cultural and natural heritage, having a outstanding universal value. In this context, some forests - such as the Amazon - potentially fall under the definition of natural heritage: "natural sites or strictly delineated natural areas of outstanding universal value from the point of view of science, conservation or natural beauty".
The list of identified natural heritage sites is evolving to take into account new concepts. The latest revisions stipulate that natural sites inscribed on the World Heritage List should "be outstanding examples representing significant examples of on-going ecological and biological processes in the evolution and development of ecosystems and communities of plants and animals".
At present, there are nearly 213 natural sites on the World Heritage List. Of these, 41 fall under the category of tropical forests, covering 30.6 million hectares of land area. Other types of forests are also listed and some sites may be listed in the near future.
However, the majority of the designated sites occupy a relatively small area. And the Convention in no way imposes itself on the national sovereignty of the States on which the "classified" territory or forest is located. Thus, the political will of the State in question remains paramount.
The other difficulty with this idea is its lack of operationality at the international level. Once a property is classified as common heritage, who assumes its protection? Who governs its management? Who monitors compliance with any mechanisms that may have been implemented by the international community for its protection? At present, classified properties are managed by the State in which they are located. The principle of sovereignty therefore applies (Article 4 of the UNESCO Convention). We should review the entire global governance, built on the sovereignty and autonomy of States. It might be conceivable to establish a system of "transfer of sovereignty", as in the European Union, but this would take a long time and would imply the renunciation by countries of the right to manage their own affairs. of part of their territory.
If multilateral or entirely international management were proposed, would we risk falling into the "tragedy of the commons"? described by Garrett HardinWould it be a situation where a common good belonging to "everyone" would not be properly protected because "no one" would want to take responsibility for its management?
To fight against disinformation and to favour analyses that decipher the news, join the circle of UP' subscribers.
Ecocide, an irrelevant notion
We've heard a lot of the notion of ecocide in the last few weeks. It is too abstract and has no legal existence, and in any case it is not suited to forest fire situations because of the massive deforestation practices we are currently facing.
If the crime of ecocide were recognized in international law by the Rome Statute governing the International Criminal CourtIn order to avoid the use of the term "genocide" or crime against humanity, it would imply making the notion of "genocide" or crime against humanity equivalent to that of environmental crime. This would require establishing that the damage to the environment has caused the disappearance of a considerable portion or the systematic, deliberate and programmed elimination of an ecosystem.
The difficulty lies in proving this criminal "intent", inherent in the very notion of a crime against humanity in the case of activity that harms the environment. Finally, ecocide would imply that one or more guilty parties could be designated and held responsible, and in environmental matters, responsibilities are very often shared. Sometimes it is even a lack of precaution, even more so than real intent.
Combining different tools
There is no single magic formula for developing comprehensive forest protection, but it is possible to combine several solutions.
At the national level, the question of control of national sovereignty would be resolved if internally the precepts existing in most national Constitutions and legislation were respected: the right to a healthy environment, the law of administrative authorisations for projects and activities affecting the environment (and forests), the law of environmental impact studies, the law of liability for damage to nature and the environment.
Even more specifically, in South America (and thus in Brazil), the so-called "environmental democracy rights" contemplated in theEscazu Agreement now allow populations affected by an environmental activity to be effectively informed in advance. The aim is to enable them to participate in decisions and to have access to justice in environmental matters.
Human rights and rights of nature
Human rights could also be mobilized in certain situations, such as the current fires.
At the American level, there is an Inter-American Regional Convention for the Protection of Human Rights, which can be easily mobilized before the Inter-American Court of Human Rights. At the European level, the European Convention for the Protection of Human Rights has already been called upon on several occasions with success on environmental and climate issues, such as in theUrgenda case.
Constitutional and administrative rights for the protection of fundamental rights such as the right to health, life and a healthy environment are also an effective weapon. Generally speaking, one can envisage legal recourse before a national judge in order to have the forest protected as part of the environment.
Some courts have even granted legal personality to elements of nature (rivers, animal species or even recently to the Amazonian rainforest in Colombia).
At the global level, the mobilization of traditional international law that sanctions the acts of one state against another state is still possible provided that both states agree to submit to the jurisdiction of the International Court of Justice or an International Arbitration Tribunal. But a treaty on the global protection of forests, including both environmental, climatic and ecosystemic aspects, as well as timber-related economic aspects, would be more relevant. This would, however, require a complete rethinking of our development and agri-food models.
Marta Torre-SchaubCNRS Research Director, lawyer, specialist in climate change and environmental and health law, University of Paris 1 Panthéon-Sorbonne
This article is republished from The Conversation editorial partner of UP' Magazine. Read theoriginal paper.