If virility as a normative model certainly nourishes a certain uneasiness and certain questions, we can also think that in a society obsessed with performance, the use of virility is constantly reinventing and transforming itself to promote the legitimization of a hegemonic masculinity in renewed forms.
Fin 2017, the philosopher Olivia Gazalé was interested in the myth of manhood in a book published by Robert Laffont. It retraces in a precise and detailed manner the social and cultural constructions linked to the injunctions that weigh on men, as historians Alain Corbin, Jean-Jacques Courtine and Georges Vigarelo had been interested in in 2013 through the three volumes of the History of Manhood. The originality of the philosopher's argument is to show that men would have everything to lose from male domination and everything to gain from the deconstruction of the gendered assignments that weigh on them (as on women). While we can be pleased that this stimulating reflection on the subject appears, we will be more circumspect about the philosopher's conclusion about the decline of a "viriarchal system" that would be caught in its own trap. If virility as a normative model certainly nourishes a certain uneasiness and certain questions, we can also think that in a society obsessed with performance, the use of virility is constantly reinventing and transforming itself to promote the legitimization of a hegemonic masculinity in renewed forms.
Manhood, between fascination and repulsion
Let's start from a simple definition: virility is an ideal. An ideal of perfection, performance and courage that requires both physical and verbal demonstrations of authority and power. Virility is the bearer of an imagination that fascinates by the way it pushes to the limits certain qualities expected of a man. Cinema and literature abound in the exploitation of these virile myths (Indiana Jones, Rocky, Terminator), but also in their caricature, reminding us that the most virile figures are not necessarily the most desirable.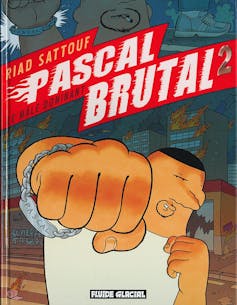 In 2006, Riad Sattouf created the now famous Pascal Brutal, "the most virile man in the world". The world in which this hero lives is an imaginary universe where Alain Madelin is President of the Republic, where the centre of Paris is closed to the poor and Brittany is independent.
Throughout the five volumes of the series, we discover a character constantly driven by his impulses. With the 1992 Adidas Torsion on his feet, a flashy silver bracelet on his wrist and a perfectly cut goatee, Pascal Brutal is a fervent fan of fighting and high-speed motorcycles. The weight training he practices assiduously gives him an advantageous physique that allows him to align female (and male) conquests. Pascal Brutal is particularly at ease in a popular environment from which he comes from (he is the result of a union between a former party girl and a dog punk) as well as in the ruling spheres to which he sometimes lends a hand. Even if he doesn't have the IQ of an astronaut, Pascal Brutal knows how to impose himself. Nothing can resist him. "Manhood is my job," he says. But behind the hero's surrealist mischief, Riad Sattouf draws the era in a line that is both provocative and clever, brilliantly demonstrating with absurdity, demolishing with ridicule and excessiveness the social codes of an ultra-liberal society where only the strongest impose themselves, a world in which intelligence no longer pays and where image takes precedence over ideas.
Why not enjoy unlimited reading of UP'? Subscribe from €1.90 per week.
If caricature works so well here, it is because the forms of virilism embodied by the hero no longer correspond to what is expected of male behaviour in the current functioning of society. The cultural and media portrayal of excessive virility often (and unfortunately in a much more serious way) serves to stigmatize the working classes (suburban youth, rappers, or even certain working-class groups such as the dockworkers described by Michel Pigenet), while among the upper classes, this representation usually takes the form of a fascination tinged with concern (especially in certain professions such as among traders or political leaders). Donald Trump is an exemplary representation of this figure of ostentatious masculinity, between conquering heterosexuality and excessive violence.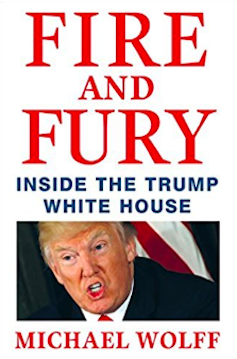 The fact that the words and actions of the current President of the United States appear to be so out of step with the times is evidence of an operation that was thought to be out of date. The recurring suspicions about Donald Trump's mental health are a clear indication that this virility is considered to be extra-ordinary and therefore dangerous, precisely because it seems to be out of control. Conversely, some political leaders do not hesitate to call for a more "inclusive" masculinity, compatible with a demand for equality between men and women, the defence of homosexual rights, the expression of emotions, etc.
We think of Justin Trudeau's tears... in his apology speech to the gay community or to the attention paid to women's rights by Barack Obamas masculinity, against the current of the angry white men described by sociologist Michael Kimmel, which led to the doors of the White House a self-promoting president.
In this sense, we should not underestimate the resistance of conservative groups threatened by this "devirilisation" of society and/or the regret expressed by some of them at the disappearance of the virile figure such as Emmanuel Macron may have been subject to it during the presidential campaign (suspicion about his ability to lead the army due to lack of completed military service or rumours about his sexual orientation). However, the election of the current French President should not deceive us and this apparent "neutralisation" does not mean that men and women occupy equal positions, nor that virility has lost its symbolic value behind the scenes of power.
"The New Clothes of Male Dominance"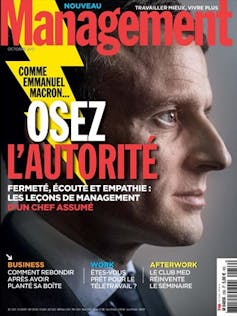 Even if hegemonic masculinity had got rid of its most visible toggles, the obsession for virile proof has not disappeared. In a "feminized" society where virility, considered suspicious, has disappeared and prevents men from "daring authority", the magazine's injunction to "be manly" has not disappeared. New Management gives us the keys to be "an assumed leader", a true: "firmness, listening and empathy".
As Serge Rabier's analysis in interested in the figure of Emmanuel Macron...In his view, his leadership would be based on "strategic audacity, a keen sense of opportunity, an assertive courage to take risks, an unfailing ardour and tenacity, an insolent belief in one's destiny, a combination of youthful ardour and wise maturity... all qualities mobilised towards a single objective: the conquest and voluntary practice of power".
More traditional forms of command are thus succeeded by the authority conquered in the ability to control oneself, to overcome trials, to show temperance and endurance, to be master of oneself and one's destiny. As the sociologist Alain Ehrenberg points out, individuals in a society "where the norm is no longer based on guilt and discipline but on individual responsibility and initiative." in other words, in a society where everyone is led to become self-employedto ensure its leadership no longer goes through the traditional paths of virility - the male body of which it has so often been the emblem - but through an ever finer use of authority and power, in a skilful blend of know-how and interpersonal skills.
This is one of the results of the anthropologist's fascinating investigation... Mélanie Gourarier on the community of street seducers, where it is understood that the virile ideal that governs men is defined not only in the demonstration of its power but by the haunting of impotence. In this "hollow" virility, "the idea is to govern oneself to better govern others." she says.
To fight against disinformation and to favour analyses that decipher the news, join the circle of UP' subscribers.
It is thus in a more individual form of disqualification of the feminine and other forms of masculinities (masculinities deemed too virile or too effeminate) that hegemonic masculinity is renewed. In socially valued positions (among executives, for example), this masculinity is in fact constructed through the disassociation of male groups whose virilist practices appear to be outdated. In 1993, the sociologist François de Singly pointed out that in an article published in Spirit that the apparent "neutralization" of society had "taken place at the expense of the working class" whose masculinity is regularly devalued and stigmatized.
In this sense, we can think that today it is not the injunctions that weigh on these "leaders" that differ (quest for excellence and performance) but the way in which men stand out within this competition. Indeed, we expect no less from men in the exercise of power, we expect differently. The identity-based reference to virility in acceding to power has therefore not disappeared, it has been modified. So we should not rejoice too quickly in the transformations of the masculine, but rather take an interest in the conditions in which men (and women) respond to gendered and social injunctions. If the figure of power changes form by being embodied in a more "inclusive" masculinity, it does not necessarily imply more equality. Thus, rather than focusing on the virilist practices that the media are so fond of, it would be in our interest to turn our gaze away from the new forms of domination, which are more pernicious to detect.
Haude RivoalDoctoral student in sociology, University of Paris VIII, National Centre for Scientific Research (CNRS)
The original text of this article was published on The Conversationeditorial partner of UP' Magazine