Meat consumption has become a hot topic. Over-consumed to the detriment of health and the planet, accused of all evils, of undermining animal welfare, a social and highly political subject, meat is in the red. Meat-free days, vegan fashion, health alerts, nothing helps, we still and always continue to eat meat. The labs may try to tempt us with their meat substitutes, but the good rare steak and chips still has its followers. A force of habit, sometimes erected in culture, difficult to thwart.
OThe ubiquity of meat on our plates, ultra-processed dishes, industrial sweets... Our diets are regularly pointed out by science. The famous medical journal The Lancet published a long article on January 16 about the consequences of our food on the environment and health.
The authors call for a radical change in our habits: it is a question of improving the health of populations and preserving the environment, which has a strong retroactive effect on food production. They essentially recommend reducing the consumption of meat, sweet products and industrial preparations in favour of fruit and vegetables, seeds and nuts, as well as legumes (peas, lentils, etc.).
Beyond the significant reduction in chronic disease, these changes would have significant impacts on household wallets. Based on the average weekly expenditure of a French family, a study published by the WWF in 2018 shows that a flexitarian basket - in which the share of animal proteins is sharply reduced in favour of vegetable proteins - would cost 21 % less than its current basket.
Taxing meat, an unfair method
These studies particularly highlight the substantial benefits of reduced meat consumption. However, the ability of consumers to do so is often thwarted by established habits.
According to the CredocHowever, French meat consumption has fallen by 12 % over the last ten years. In 2007, the French ate an average of 153 grams of meat products per day, compared to 135 grams in 2016, which corresponds to an average decrease of 18 grams in ten years.
In this context, certain scientists advocate the imposition of a very high tax on meat, which is difficult to implement in practice. High levies on meat, which is a relatively expensive product, also pose problems of equity, with the risk of excluding the most modest consumers. Eating meat in moderate quantities is beneficial to health, as meat provides the full range of amino acids, while plants lack B12 vitamins.
Why not enjoy unlimited reading of UP'? Subscribe from €1.90 per week.
Willing to pay for quality?
The information campaign aimed at consumers is another way of raising their awareness, even if its effect is generally modest. The effectiveness of such an approach depends on a good knowledge of consumer perceptions and their reaction to the information. Questionnaires and experimental studies make it possible to determine their preferences accurately.
Experimental economics places a group of individuals in a situation where their real behaviour is simulated (if it is in the laboratory) or influenced (if it is in the field) to reveal their inclinations or propensities to pay for products of different qualities. Compared to other preference determination methods, the laboratory experimental method has the advantage of accuracy and control of the information revealed to consumers.
It is thus possible to identify the conditions under which participants are willing to spend a higher amount: this "willingness to pay" will also change according to the new data they receive. These indicators offer an idea of the potential changes that could occur in the markets, but do not reflect actual conditions in the stores.
Beef or soy steak
For example, this method makes it possible to assess what would potentially influence convinced carnivores. In November 2015, a team of researchers carried out a experience on the meat. 124 participants were randomly selected on the basis of the quota method - which provides a representative sample of the age groups and socio-economic status of the city's population.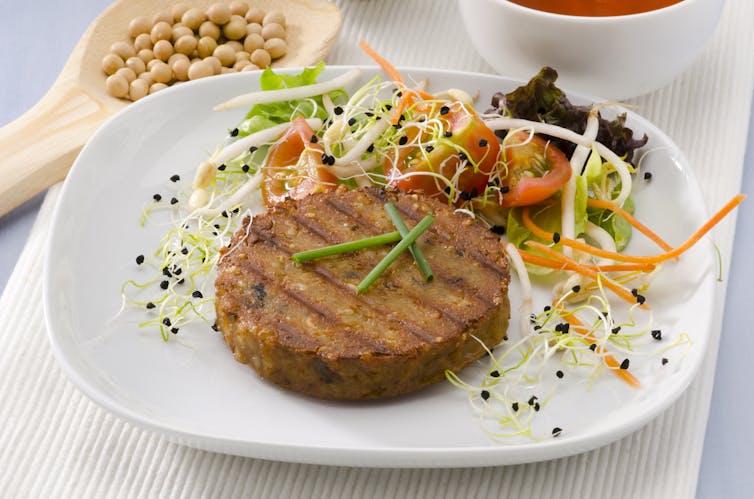 Initially, individuals were offered two ground beef steaks and two soy steaks, representing a vegetable alternative close to meat. They then indicated their purchasing intentions for different prices, making it possible to measure their willingness to pay according to the products. At this stage, they did not have any specific information.
In a second step, participants were informed about the impact of the different products on health and the environment and updated their choices. At the end of the experiment, new purchase intentions were indicated, after the original beef was replaced by beef sold with an Label Rouge and accompanied by explanations on the specifications of this label.
To fight against disinformation and to favour analyses that decipher the news, join the circle of UP' subscribers.
Young people more sensitive to substitutes
Firstly, it can be seen that the average "willingness to pay" for veggie steak is lower but relatively close to that for the animal product. This suggests that in the future, substitution between the two types of products would be possible, especially if the price of meat increases sharply.
Health and environmental information, when revealed, significantly reduces purchase intentions for beef steaks, and significantly increases those for soy-based steaks, although these shifts are relatively small, with relative absolute changes of less than 8 %.
It should be noted that reactions to information concerning "willingness to pay" for soybeans are significantly higher among young consumers (+8.1 %) than among older consumers (+4.4 %). This sensitivity of the young participants confirms, in the long term, the possibilities of significant substitution of plant-based products for animal products.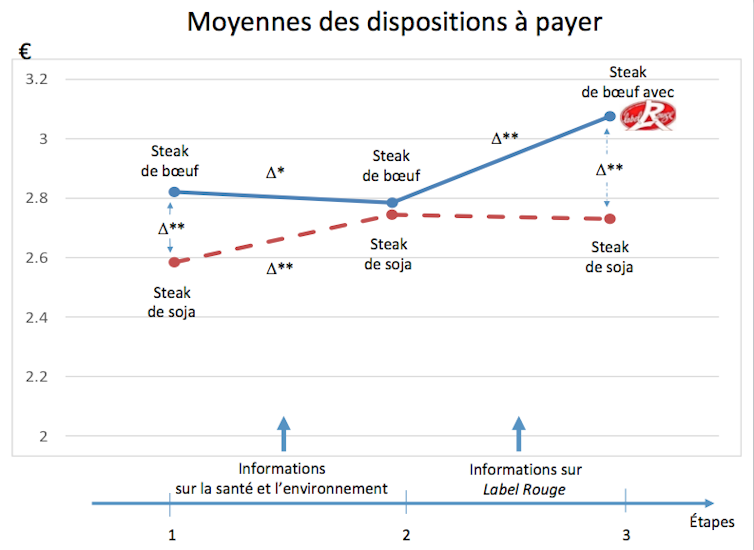 Red Label, the success of quality meat
The introduction of high quality beef steak results in a statistically significant increase in participants' willingness to pay for beef, while the willingness to pay for soy does not change significantly. The figure shows that this increase in "willingness to pay" for labelled beef is the largest relative to the other variations.
The positive effect of the Label Rouge underlines the participants' sensitivity to the quality of beef. The specifications for this mention guarantee practices that respect animals, meadows and the environment.
The above-mentioned debate should therefore not only focus on the substitution between animal and vegetable products, but also on the development of labels and the promotion of better quality meat.
Stephan MaretteResearch Director at INRA, economist, Agro ParisTech - Université Paris-Saclay
This article is republished from The ConversationUP' Magazine's editorial partner. Read theoriginal paper.
Anything to add? Say it as a comment.

Nous avons un message pour vous…
Dès sa création, il y a plus de dix ans,  nous avons pris l'engagement que UP' Magazine accordera au dérèglement climatique, à l'extinction des espèces sauvages, à la pollution, à la qualité de notre alimentation et à la transition écologique l'attention et l'importance urgentes que ces défis exigent. Cet engagement s'est traduit, en 2020, par le partenariat de UP' Magazine avec Covering Climate Now, une collaboration mondiale de 300 médias sélectionnés pour renforcer la couverture journalistique des enjeux climatiques. En septembre 2022, UP' Magazine a adhéré à la Charte pour un journalisme à la hauteur de l'urgence écologique.
Nous promettons de vous tenir informés des mesures que nous prenons pour nous responsabiliser à ce moment décisif de notre vie. La désinformation sur le climat étant monnaie courante, et jamais plus dangereuse qu'aujourd'hui, il est essentiel que UP' Magazine publie des rapports précis et relaye des informations faisant autorité – et nous ne resterons pas silencieux.
Notre indépendance éditoriale signifie que nous sommes libres d'enquêter et de contester l'inaction de ceux qui sont au pouvoir. Nous informerons nos lecteurs des menaces qui pèsent sur l'environnement en nous fondant sur des faits scientifiques et non sur des intérêts commerciaux ou politiques. Et nous avons apporté plusieurs modifications importantes à notre expression éditoriale pour que le langage que nous utilisons reflète fidèlement, mais sans catastrophisme, l'urgence écologique.
UP' Magazine estime que les problèmes auxquels nous sommes confrontés dans le cadre de la crise climatique sont systémiques et qu'un changement sociétal fondamental est nécessaire. Nous continuerons à rendre compte des efforts des individus et des communautés du monde entier qui prennent courageusement position pour les générations futures et la préservation de la vie humaine sur terre. Nous voulons que leurs histoires inspirent l'espoir.
Nous espérons que vous envisagerez de nous soutenir aujourd'hui. Nous avons besoin de votre soutien pour continuer à offrir un journalisme de qualité, ouvert et indépendant. Chaque abonnement des lecteurs, quelle que soit sa taille, est précieux. Soutenez UP' Magazine à partir d'1.90 € par semaine seulement – et cela ne prend qu'une minute. Merci de votre soutien.