The planet is overheating and some, like the climatologist Jean Jouzel, predict that we're about to "roast at low heat". Controlling greenhouse gas emissions has become a mantra, but even if we succeed, it will probably be too late. We must anticipate the inevitable climate shock and implement measures to adapt and improve our resilience. This is what a few cities around the world are doing by adopting planning strategies to withstand the climatic vagaries of the future. This is the case in Australia, where metropolises are literally changing colour by rediscovering and transposing the virtues of water and vegetation.
Aith cities growing denser and larger around the world, global warming is the major challenge of this century for urban areas: they could be the home of nearly 70 % of the world's population by 2050.
Here you can see how some Australian cities - such as Melbourne, Sydney or Perth - have already adopted management strategies to improve their resilience to climate hazards. Water and green space management plays a key role, particularly in mitigating the formation of "heat islands".
This phenomenon is recurrent within cities: human activity, combined with the concreteisation of spaces, is accompanied by a local increase in temperatures, creating microclimates.
In Île-de-France alone, the Paris temperatures remain on average 2 to 3°C higher than those in rural areas throughout the year, with a difference of up to 10°C at certain times.
Green spaces, "islands of freshness"...
Plants are an effective, long-term means of combating the sometimes stifling temperatures of our cities: city dwellers flocking to parks in search of a little coolness in the summer bear witness to the refreshing power of nature in the city.
At the forefront of this fight, trees play an important role as thermal regulators. Thanks to evapotranspiration (which refers to the emission of water through the pores of leaves) and the shade they produce, they keep the streets cool and prevent the storage of the sun's heat in the bitumen during the day. A study study conducted by the Lawrence Berkeley National Laboratory estimates that the presence of trees in urban areas can reduce space cooling by up to 40 %.
Why not enjoy unlimited reading of UP'? Subscribe from €1.90 per week.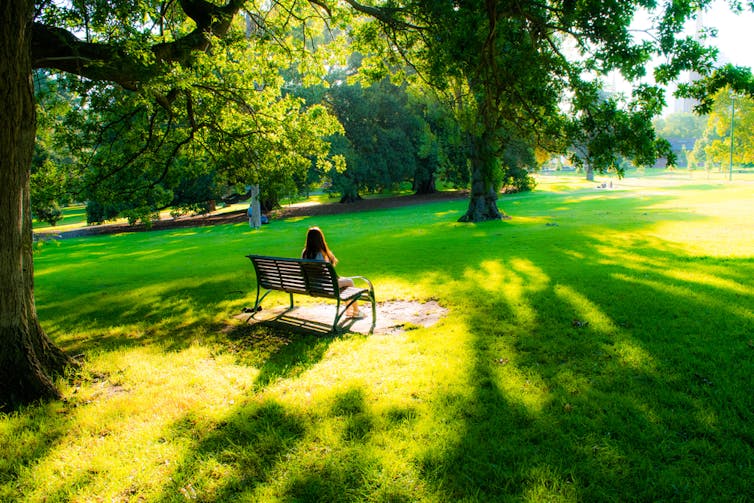 The same applies to green roofs and walls, which allow for better insulation of buildings by capturing the sun's energy, ensuring greater thermal inertia.
On a larger scale, green spaces and parks have the power to create true islands of coolness in the heart of cities: they promote the aeration of spaces and stem heat islands. With coherently designed spaces, green and blue patterns can emerge: they constitute "corridors" in which nature and the city cohabit and make it possible to move from one point to another while remaining "connected" to nature.
The development of the linear park on the banks of the Rhône in Lyon is a good example of this type of traffic, as are the parks and promenades along the Yarra River in Melbourne or the Swan River in Perth.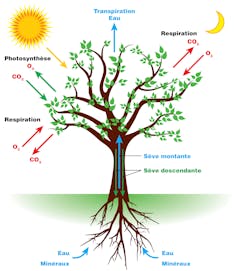 In addition to their role as thermal regulators, plants are also carbon sinks (they capture CO2 ambient), barriers against odours, noise and fine particles. And, of course, they capture rainwater through their roots, limiting runoff in the streets. This is particularly important in flood-prone cities.
In the fight against heat waves, plants are real "Swiss Army knives" in urban planning.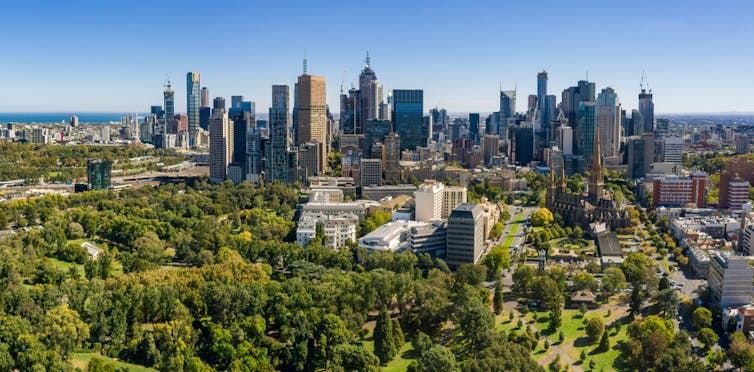 The importance of water management
Water resources are also a major issue in many cities facing increasing difficulties in supplying drinking water, as is the case in Mexico City, Cape Town, Beijing and Perth.
It is precisely in Australia that an innovative initiative was born, with the creation in 2012 of the Cooperative Research Center for Water Sensitive Cities within a national research programme covering environmental, mining and energy, medical, agricultural and industrial themes. This organisation aims to bring together the different stakeholders in the city around the integrated management of the water cycle in space and urban culture.
To fight against disinformation and to favour analyses that decipher the news, join the circle of UP' subscribers.
Integrated management of the water cycle requires multifunctional facilities: communication axes combining soft modes of transport and waterways, parks that can be flooded in the event of flooding, or even streets that capture rainwater to discharge the drainage network. This mode of management also includes new principles such as the protection of ecosystems and the recycling of wastewater, while placing humans at the heart of urban planning.
Models for more sustainable cities
Melbourne, Sydney and Adelaide, ranked among the "World's Most Liveable Cities" - respectively 2e, 5e and 10e from 2018 ranking carried out by The Economist - are undergoing a real change in approach to urban planning, made indispensable by increasingly intense climatic and demographic pressures (heat waves, rising sea levels, population densification). These metropolises have begun their transition towards a more sustainable, resilient and livable model by adopting the water-sensitive cities.
They mobilize environmental engineering and all the city's stakeholders to design urban models that provide ecological services and propose alternative water supply solutions. In particular, the spaces are configured in such a way as to recover rainwater for the city's watering and cleaning needs, avoiding the use of drinking water for these uses. The drinking water distribution networks are thus relieved.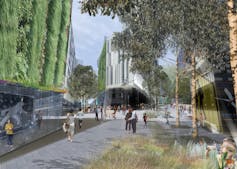 This concept of the city proposes a paradigm shift through the mobilisation of technical tools (porous surfaces, noues The main focus of the project will be on the design and implementation of landscape, water retention and institutional systems. The enhancement of the city's aquatic environments enables the water resource to be seen as a potential and no longer as a threat, in order to better adapt the city to its territory.
There are also concrete examples of water-sensitive cities in other parts of the world, such as Toronto, which is developing major green and blue screens around its major communication axes. This is also the case in China with the implementation of an 16 cities named "ecological garden cities". by the government. For example, Kunshan, a suburb of Shanghai, has begun an urban transition to combat the problems of road traffic, air pollution, flooding and urban heat.
Beyond the problems of heat, "green and blue" developments allow cities to breathe better, to sustain their water supply and their ecosystems, while ensuring the well-being of their populations. They offer prospects for meeting the challenges posed by climate change and urbanization, while calling for a reconsideration of the place of blue gold in our urbanized societies.
Anas GhadouaniProfessor and Programme Chair, University of Western Australia and Lucas MarxMaster's student in Urban Engineering, Monash University
This article is republished from The Conversation editorial partner of UP' Magazine. Read theoriginal paper.
Anything to add? Say it as a comment.

Nous avons un message pour vous…
En octobre dernier nous avons pris l'engagement que UP' Magazine accordera au dérèglement climatique, à l'extinction des espèces sauvages, à la pollution, à la qualité de notre alimentation et à la transition écologique l'attention et l'importance urgentes que ces défis exigent. Cet engagement s'est traduit par le partenariat de UP' Magazine avec Covering Climate Now, une collaboration mondiale de 250 médias sélectionnés pour renforcer la couverture journalistique des enjeux climatiques.
Nous promettons de vous tenir informés des mesures que nous prenons pour nous responsabiliser à ce moment décisif de notre vie. La désinformation sur le climat étant monnaie courante, et jamais plus dangereuse qu'aujourd'hui, il est essentiel que UP' Magazine publie des rapports précis et relaye des informations faisant autorité – et nous ne resterons pas silencieux.
Notre indépendance éditoriale signifie que nous sommes libres d'enquêter et de contester l'inaction de ceux qui sont au pouvoir. Nous informerons nos lecteurs des menaces qui pèsent sur l'environnement en nous fondant sur des faits scientifiques et non sur des intérêts commerciaux ou politiques. Et nous avons apporté plusieurs modifications importantes à notre expression éditoriale pour que le langage que nous utilisons reflète fidèlement, mais sans catastrophisme, l'urgence environnementale.
UP' Magazine estime que les problèmes auxquels nous sommes confrontés dans le cadre de la crise climatique sont systémiques et qu'un changement sociétal fondamental est nécessaire. Nous continuerons à rendre compte des efforts des individus et des communautés du monde entier qui prennent courageusement position pour les générations futures et la préservation de la vie humaine sur terre. Nous voulons que leurs histoires inspirent l'espoir.
Nous espérons que vous envisagerez de nous soutenir aujourd'hui. Nous avons besoin de votre soutien pour continuer à offrir un journalisme de qualité, ouvert et indépendant. Chaque abonnement des lecteurs, quelle que soit sa taille, est précieux. Soutenez UP' Magazine à partir d'1.90 € par semaine seulement – et cela ne prend qu'une minute. Merci de votre soutien.