Against all odds - digital - the paper book resists! The ebook is not going to supplant as radically as expected the codex as it had replaced the volumen,... Is it a cultural issue, pitting bibliophiles, supporters of the book-object, against supporters of the book-practice, who more easily accept to free themselves from the medium if the practice of reading comes out stronger? Is there an economic stake when we know that digital technology threatens the existence of independent bookshops? Analysis by Lylette Lacôte-Gabrysiak, Senior Lecturer in Information and Communication Sciences.
À
In this digital age, the resistance of the book in its printed form may come as a surprise. However, this persistence of writing on paper can be explained. When we talk about books, it is still necessary to specify the type of book. For a long time the main vector of knowledge, the book has long since lost this status in the face of scientific journals, which are now largely dematerialized. Nevertheless, scientific books are still present, and both printed and ebook formats coexist. In this field, the digital format offers many advantages, particularly that of allowing, under certain conditions, an offer in
open access
s, within an academic community accustomed to digital documentation accessible online. The small print runs of academic books do not prevent the desire to have one's work printed, however, suggest that the prestige of paper remains for authors, especially in the humanities (
one counts
10,332 titles in the human and social sciences in France in 2017 for to 3,130 titles in science/health/medicine).
Dictionaries and other guides, popularization books and some practical books have seen their sales decline since the development of the web - not surpassed by e-books, but more simply by web applications like Wikipedia. Despite this, the symbolic power of the book remains and we see sites like Marmiton publishing printed books when it would seem logical to prefer a free recipe site with many search possibilities (by recipe name, by ingredient) to a cookbook that you have to buy. That's counting without the gift book and the pleasure of turning the pages of a beautiful book full of photos to be crunched.
Textbooks continue to be a genre that is well represented in bookstores even though the digital schoolbag is in testing and development. Novels, essays, children's books and comic strips remain. Although children's books and comic strips are objects in which aesthetics is an important component, this does not prevent dematerialization. For these works, as for novels and essays, how can we explain this stubbornness of paper that does not weaken?
Comparative advantages
For the ebook to be successful, it must have benefits for buyers. Certainly with an ebook it is possible to enlarge the characters (a real plus for people with vision problems), to search for a word, to call up a dictionary... It is also possible to underline a part of the text or to leave milestones in the document (on paper too, provided you have a pencil and a post-it). However, these technological advances do not seem to convince us that a printed book does not have a battery problem, that 500 years of history have made it profoundly ergonomic (table of contents, page number, index...), that its use does not require any knowledge of the different ebook formats available (e-pub, PDF, Kindle) and of how to retrieve the files.
Ebook vendors also often insist on the possibility of storing hundreds of titles in a single device. The answer to this is that few of us need to carry our entire library in our pocket and many prefer to have it in our living room. On the other hand, an ebook is a file and one buys a right to use it. It does not make a very remarkable gift. It cannot be lent, resold or given away. This use of a file instead of the possession of an object cannot be neglected.
Books have always been an object that circulates: we lend the books we love, we sell our books at bookstores or flea markets, we give books away too, and this practice of sharing remains alive and well, as the success of book trees shows. that flourish in cities. We also keep them, to be able to find them, to reread them, to remember them or only, sometimes, to have the pleasure to display a beautiful and full library.
Finally, a digital book can be read on a reader, a tablet, a smartphone or a computer. Readers must be bought only for the purpose of reading ebooks, they are somewhat fragile and you read in your bath, on the beach ... and it is easier to see a paperback book washed away by the tide, be stained with sunscreen or covered with chocolate by the youngest child than to have to record the loss of a rather expensive device.
Why not enjoy unlimited reading of UP'? Subscribe from €1.90 per week.
Tablets, smartphones and other computers, on which you can also read books, have many uses, which justifies their purchase, but reading on screens is increasingly decried: it interferes with falling asleep, and we read a lot... in bed. It would also be discouraged for youth and children. Above all, you only have to take the train to see that more and more passengers equipped with these instruments prefer to watch videos rather than read, since they are equipped with equipment that offers both possibilities.
Another specificity of the book is that it does not require a playback device, which differentiates it from recorded music and videos. Its practicality is therefore not a function of current technological developments, but is the result of centuries of adaptation until an optimal form is obtained which no longer has any reason to vary (whereas recorded music has taken on the form since its development at the end of the 19th century).e century of wax cylinders, 78 rpm bakelite records, vinyl records, audio cassettes, CDs, MP3 files to name the main ones). With the transformation of playback devices, it was undeniably easier to have your music in MP3 format rather than on vinyl when MP3 players (especially the iPod) became the most common means of storing and listening to music. In addition, at the same time, piracy practices were added, which were all the more massive since they were very well adapted to the new music formats (you could get pirate files on the web, which was perfect to feed your MP3 player).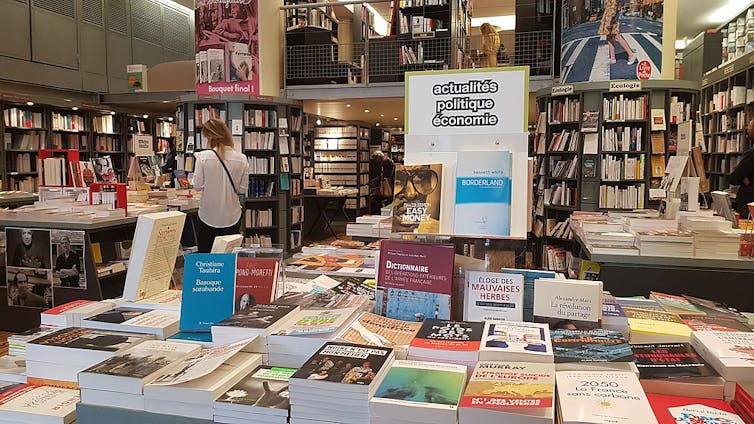 The sinews of war
Another important motivation for buying books in digital form could be the purchase price. However, while digital books are indeed cheaper than printed books, the price difference is not huge and does not necessarily compensate for substituting a file for an object - for example, 14.99 euros for the Kindle format file of Marc Levy's latest novel, Ghost in Love21.50 for the paperback format, released in May 2019. For paperbacks, the difference benefits pockets - not to mention the fact that if a reading machine is used, the purchase price of the machine has to be amortized. Of course there are free offers of books that have fallen into the public domain, but these are not the most popular books.
In addition, online book sales services are increasingly offering the possibility of acquiring second-hand books. The marketplaces of Amazon or FNAC, for example, offer, following a search, in addition to the new book, access to a certain number of copies of the same used title. Dedicated sites are multiplying (Abebooks, Chapitre but also Momox, Recylivre). The second-hand book sales are growing Not only is it now easy to find a precise title but these books are considerably cheaper and for the price you buy a book object that you can always resell, give away...
In addition, there are fewer and fewer big readers (more than 20 books per year). The price of a printed book remains reasonable for occasional readers who buy less than 5 books a year and would therefore make negligible savings by switching to electronics for less reading comfort and more limited use. One could think of the monetary advantage of being able to take out a subscription such as exists for music (Deezer, Spotify) or video (Netflix, Canalplay, Amazon video) and, indeed, such offers have been or are still being proposed (Le Kiosk, Amazon Kindle subscription). But what novel readers are looking for above all are the authors they've loved (and they won't necessarily be present in these offers). Without these points of reference, it is particularly difficult to find one's way through a plethoric editorial offer. These proposals therefore do not work like their musical or video equivalents. What comes closest to them and takes up an interesting but limited place are the platforms for putting on line either fictional works offered free of charge for reading by Internet users (Wattpad for example), or fanfiction sites (such as Fantic or fanfiction.fr).
Finally, the Lang Act, which regulated book prices in France, has made it possible to maintain a large network of bookshops. Readers often visit these stores. How, indeed, can they benefit from better personalized advice in order to choose from among the 23,000 adult fiction titles, the 6,000 essays, the 9,600 practical books, the 17,000 children's books and the almost 9,600 comic books, manga, comic strips, etc.? published in 2017 in France ? And booksellers sell paper books (attempts to sell ebook files in bookstores have not been very successful).
We know of digital book readers better and better. They are above all technophiles, 68 % of them read novels. They mainly use tablets and smartphones as reading devices and read on several devices. They are also more often fans of audio books (45 % of ebook readers listened to at least one audio book in the year for 12 % of the population who listened to an audio book at least once). This is therefore a fairly specific profile with little attachment to paper and keen on technology. In the population as a whole, the appeal of e-books remains more limited because while 20 %s say they have already read all or part of an e-book, 5 %s of those who have not done so envisage doing so for 75 %s who do not envisage doing so. Thus the digital book has already found a large part of its audience.
In addition to these multi-equipped users, we must add those who read on reading glasses and who have a different profile since they are primarily women over 40 years old and are great readers. A specific, niche, stabilized audience that leaves manufacturers with little hope that the market for reading glasses will explode.
To fight against disinformation and to favour analyses that decipher the news, join the circle of UP' subscribers.
Digital readers also borrow books from libraries. The digital offer is more and more present with the PNB system, but it does not necessarily meet with the expected success, as users are often perplexed by the technical constraints. Nevertheless, the overall number of e-book loans is increasing: 500,000 in 2018 (+45 % compared to 2017) for 152 million physical book loans for city libraries alone in 2012.
A private library
A paper future?
The phenomenon of ebooks remains a limited phenomenon. The share of digital (books, applications, bouquets, portals) accounted for 7.6 % of French publishing revenues in 2017. To explain the resistance of the codex, it is always possible to evoke the noise of the page being turned, the smell of fresh ink, but the essential is not there. It is the absence of a crucial advantage offered by ebooks that limits their development. If new technological openings are always to be expected (such as colour electronic paper), studies are also leading to a preference for print rather than electronic media and could hamper further development.
Coming after the switch to the immaterial of music and video, the book also undoubtedly benefits from a somewhat dull enthusiasm for these new and a return to the material (an object rather than a file).
In the reading among young adults aged 15 to 25 in the NLC published in 2017
the presence of digital books is a reality: 86 % of young readers read books in different formats (83 % of print, 35 % of digital books and 13 % listen to audio books). We can also note that while 47 % read exclusively on paper, only 2 % read only ebooks and it is above all on their smartphone that these books are read. Another more recent study and population-wide shows that 24 % of the respondents read digital books, mostly in limited numbers (for 76 % of them from 1 to 4 books per year). While the number of ebook readers had increased between 2015 and 2017, the figure has stagnated since then, confirming the general impression that this audience has stabilised.
The future is difficult to predict, however we can notice that video is becoming more and more prevalent - this has been made possible by the increase in bandwidth - and the arrival of 5G should accentuate this phenomenon. Vlogs have replaced blogs, and online video providers allow more and more time to be spent watching series, so it is cultural practices as a whole that could evolve over the next few years depending, in particular, on the amount of leisure time available. In the NLC's 2017 Young Adults and Reading Study while respondents say they read on average 4h43 per week in the context of leisure activities (compared to 14h50 spent in front of a screen), the main advanced barriers to reading activity are lack of time (at 47 %) and a preference for other activities for 41 % of the respondents.
Concerning cultural or leisure activities practiced daily, reading books comes in 9e position (18 % of responses) after music, social networking, talking to friends at a distance, watching videos, TV, seeing friends, radio and video games
The surveys seem to show a profile of a great reader who is above all a great reader in her fifties and a graduate. The renewal by younger women is not assured, or else by female manga readers whose practices will not necessarily be stable. Another remarkable trend is the steady increase in the number of audio book "readers", especially among young people.
So, if the paper book continues to hold its own in our digital world, perhaps it is the great readers of print that may end up missing out.
Lylette Lacôte-GabrysiakLecturer in Information and Communication Sciences, Lorraine University
This article is republished from The ConversationUP' Magazine's editorial partner. Read theoriginal paper.
To buy books online from independent booksellers : Lalibrairie.com
Anything to add? Say it as a comment.